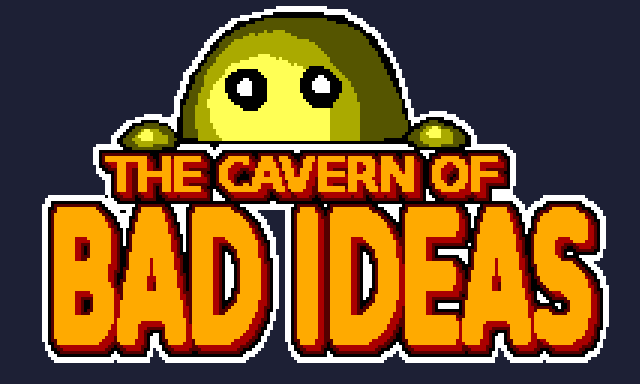 The Cavern of Bad Ideas
A downloadable game for Windows and Linux
A game for Ludum Dare 41. Made in 48 hours. The theme was "Combine 2 Incompatible Genres".
The game was written in C.
____________________________

What is it?
The Cavern of Bad Ideas is a game that combines elements from the following genres/kind-of-genres:
2D side-view Metroidvania
Point-n-click games (adventures etc.)
"Light gun" shooters
In this game you play some kind of something from some planet located somewhere. You are trapped in some unknown cavern, and your goal is collect eight blue power gems to power up the teleporter that will send you back to your home planet. You must shoot evil triangles before they kill you. For some reason, of course. And collect clocks to make sure you won't run out of time. Don't ask why.
____________________________
Controls
Use left mouse button to move, and right mouse button to shoot (requires bullets). The game can be paused with Enter. Press Escape to quit. Toggle full screen either from the main menu, or press F4 or Alt+Enter.
____________________________
Source: https://github.com/jani-nykanen/LD41
Ludum Dare page: https://ldjam.com/events/ludum-dare/41/the-cavern-of-bad-ideas
Install instructions
Linux (64-bit only): Run run.sh. Should work.