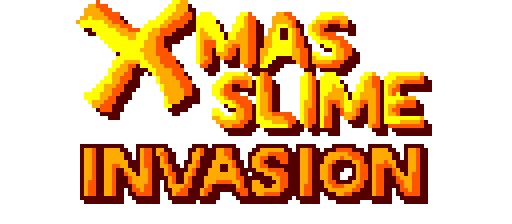 Xmas Slime Invasion
A downloadable game for Windows and Linux
Evil space slimes (they must be evil since they smile all the time!) have invaded Earth! Defeat them, so you can go home and have a nice Christmas!
Xmas Slime Invasion is a tiny Christmas-themed shooter. Shoot 'evil' slimes, steal their crystals to perform a powerful crystal shot that will instantly kill anything. Avoid shooting people, that will only make the game harder!
It is a kind-of sequel to my LD game, although mostly in the visual side. It was programmed in seven days in C. My goal was to make a game before Christmas, so this is like a jam entry without being part of any existing jam. That also means I won't be adding new features, although I'll do bug fixes if necessary.
Controls:
Arrow keys / Left stick or dpad: Move
Z / Button X: Shoot
X / Button A: Jump
C / Y : Evade
Space / B : Shoot crystal (requires a crystal, obviously!)
The gamepad controls aren't the best, but I wanted to support a bigger range of devices and had no time to add customized controls, so if you have a joystick with four buttons, it is possibly supported!
The audio does not work correctly yet. I had some problems with SDL_mixer, so sometimes sound effects do not play at all.

Source also on GitHub: https://github.com/jani-nykanen/Xmas-Shooter

Install instructions
Linux (64-bit only):

The Linux version is tested only on a PC that has SDL2 installed, so I'm not sure if I put the required .so files in the lib folder. Run run.sh, not game.
Run it in a terminal so you'll see possible errors. If some .so files are missing, see if renaming .so files in the lib folder helps (if not, so some library is fully missing, report me)
Linux (32-bit) & possibly other Unix systems:

You can build the game from source by installing the following development libraries: SDL2, SDL_image and SDL_mixer. Then, download the source, go to the root and type make to the terminal.
Comments
Log in with itch.io to leave a comment.
Wow, I really really enjoyed this devs. Thanks for taking the time to create it.
wobblyfootgamer
An incredibly fun game. Definitely worth hitting that download button!